The infrared light increases cellular metabolism, blood circulation and the supply of oxygen. The synergistic effect created by the two forms of light allows for an effective producer application and gives the hair its best chance for a healthy growth cycle.
Other effects of light at a lower frequency are: a rapid reduction of inflammatory edema along with a drastic reduction of pain. The infrared light operates at the peripheral nerve fiber level, activating the process of myelimization, optimizing the synaptic function. Infrared light also promotes the process of cicanization or healing.
At the joint levels, range of motion (ROM), muscle strength and muscle resistance are all quickly recovered along with the normalization of the neuromuscular function. The infrared light has a contemporaneous resolution of traumatic wounds and surgery during rehabilitation.
The product has obtained the necessary approval from European control groups satisfying BBC directives governing electromagnetic and safety compatibility. This product is in compliance with and has met all requirements, for a laser product, set out by the U.S. Food & Drug Administration pursuant to 21 C.F.R. § 1040.
Laser Hair Therapy Results: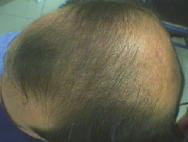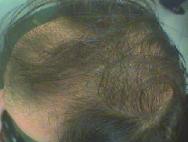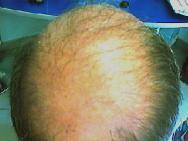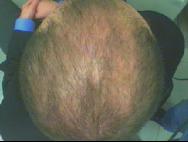 Here are more examples of our results!
(Click image to enlarge)
---
Skin Care Laser Therapy
Low Level Light
Skin Care Therapy
State-of-the-art technology in skin treatment
Effective - High-tech
Skin Treatment
Treat yourself to the luxury of an exclusive, high-tech facial treatment, specially formulated for Low Level Light skin therapy.
Use Low Level Light skin therapy as an alternative to a face-lift.
This new formula tones up the skin and makes it appear younger and smoother.
Use it today and notice the effects tomorrow.
Acts quickly and effectively. the results can be seen after the first few applications.
The infrared penetrates deeply into the skin. The heated skin dilates the capillary vases and stimulates the circulation. Blood brings with it the necessary substances to nourish the human fabrics more quickly. The pores of the skin, as a result, are more open. The treatment works like a massage, and the use of infrared light allows for:
Elasticity of the skin

Cutaneous blood flow

Greater cutaneous oxygenation

Increase of the blood flow

Increase of cellular metabolism
Diagnostic Scope
The Diagnostic Scope is the professional, more advanced system of enlargement for observation of the skin. This system magnifies the surface of the skin up to 200x. This degree of enlargement shows details that are invisible to the naked eye. This system will automatically diagnose the skin problem, recommend treatment, and monitor the client's laser treatment progress.
| | |
| --- | --- |
| Cedar Rapids (319) 363-1841 | Iowa City (319) 337-7191 |
©2006 Clinic of Electrology & Laser